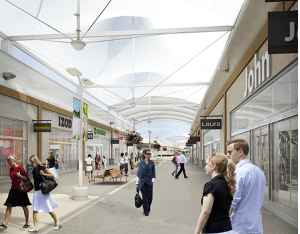 Let's face it, we all love a bargain. Our psyches are tuned to react to those Sale signs we see every day. We enjoy the idea of getting a lower price on an exclusive product. Factory outlet stores are popular shopping destinations when searching for designer label clothing. Unfortunately, it is not always as easy as it appears to get a great deal.
Last night's episode of CBC Marketplace revealed that factory outlet stores that commonly sell lower quality products than the regular brand name retail stores are not what they may seem. The program surveyed several well-known brands of clothing and accessories being sold at outlet malls. A high proportion of the products studied at outlets for familiar brands such as Banana Republic, J.Crew and Coach were significantly different in detail and quality from the similar styles found in their regular retail fashion stores. What did the design companies themselves have to say about this? They admit that the clothes sold in the outlet stores were different in many cases. In fact the whole design, production and merchandising  is a separate operation.
A spokesperson from J.Crew said…
 "In some cases, we do utilize different fabrics or adjust design details to maintain a more reasonable price point" 
Another well-known clothing brand, Banana Republic, also has a separate product supply chain for its outlet stores. The smart shoppers among us can even see evidence of this right in the store. The outlet mall items are labelled differently from those in the retail store. Take a look at the labels below.
The label on the left shows three distinct 'diamonds' underneath the brand name. This indicates that this product was made specifically for the outlet and that the garment was made to be sold at a cheaper price. This can mean that the fabric and other detail such as trimming, lining,  zippers, fasteners etc could all be of a lower quality. The label on the right is on an item from the brands main retail store. Marketplace found outlet stores garments made with less durable leathers and different standard of fabric than comparable products sold at the retail stores. The program said,
"The quality of products at outlets varies widely. Remember, this stuff was largely made just to be sold cheaply. So they're going to cut corners,"
The response from Banana Republic stated,
BRFS ( Banana Republic factory Stores)  has its own product design, merchandising, sourcing and marketing teams. Our stores carry collections created exclusively for BRFS and do not sell Banana Republic Specialty product.
Similarly at spokesperson from Coach was quoted as saying,
 Generally, our manufactured-for-outlet product will be less embellished – using less overall hardware and/or simpler hardware, may not have an exterior pocket, or may have a narrower gusset, may have a simpler (non-branded) lining, or may use a flat versus tumbled leather  – compared to the retail bag that inspired it.
Similar situations in the U.S. have led to law suits against both Winners and Gap, the parent company of Banana Republic, for misleading consumers with 'compare-at' advertising.
The problem arises when these brands have a higher number of outlet stores. The original idea to sell off unsold products from the main stores becomes unsustainable because the demand is greater than the supply. This forces them to find other supply options to supply the stores.
Shopping at fashion boutiques that source products from exclusive design houses with carefully controlled manufacturing standards is one way to ensure that you have the quality product that you expect. Discount items at these stores are true sale price reductions on the genuine designer clothing.
Find out more about the marketplace report here :
CBC news – Winner's Compare-at-price
CBC news – Outlet store clothing quality